Bring Back Natural Looking Volume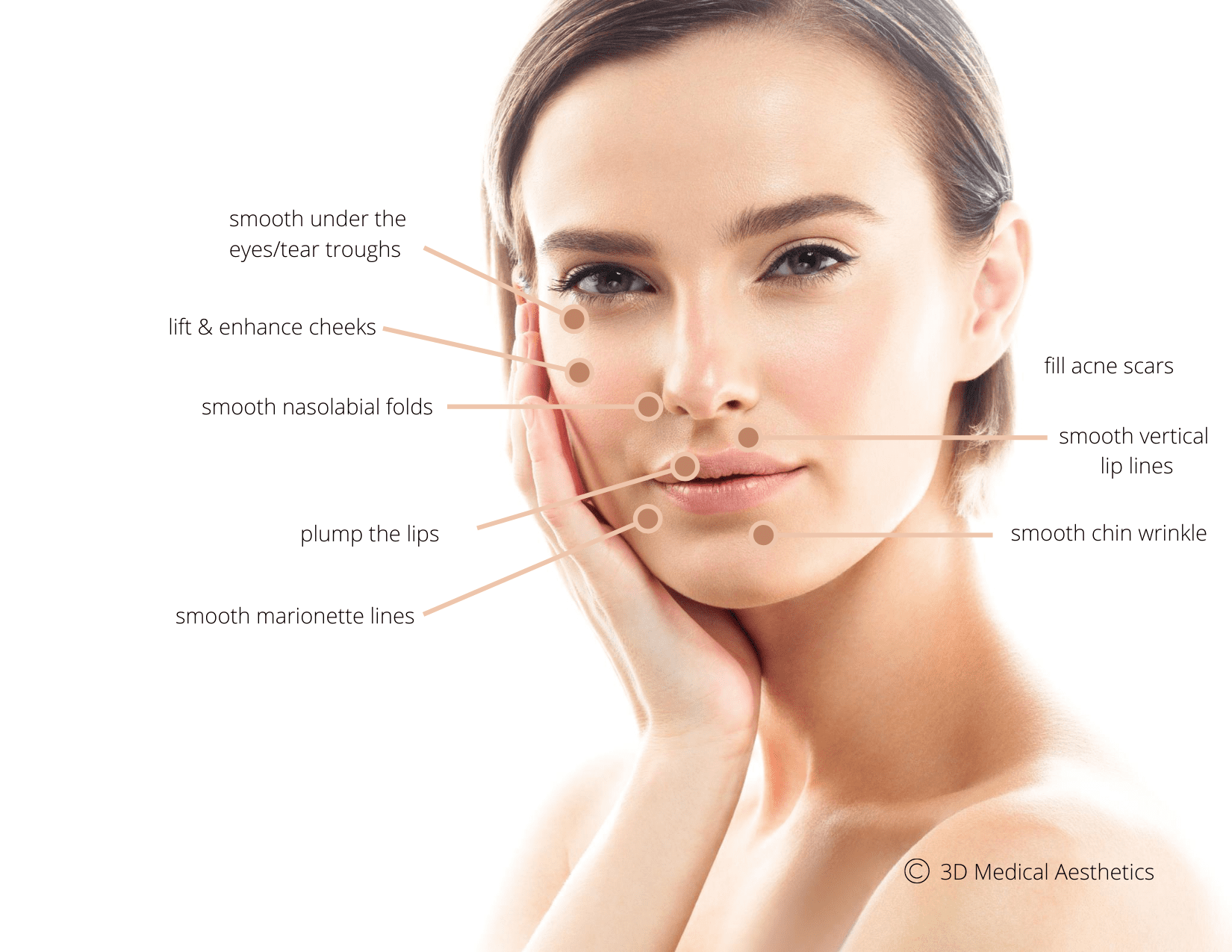 Over time, skin loses its volume. Dermal fillers help you temporarily bring it back. Add volume to plump lips, smooth lines, add natural-looking volume to your hands, or lift & contour cheeks—we have what you need to get the results you want. Hyaluronic acid, or HA, is a naturally occurring substance that delivers volume to the skin. JUVÉDERM® and Restylane® collections of fillers are long-lasting, non-surgical options that contain a modified form of HA. Fillers that include HA are a top choice for patients—over 90% of filler patients receive an HA dermal filler. Contact 3D Medical Aesthetics' highly experienced medical injectors about starting your own dermal filler journey.
Hyaluronic acid (HA)- based dermal filler injections can be used to improve the skin's contour and reduce depressions in the skin due to scars, injury or lines. HA is a natural substance in the skin that delivers nutrients, helps the skin retain moisture and softness, and adds volume. The collection of dermal fillers we use JUVÉDERM® and Restylane® Collections are made from a modified form of HA.
Is Dermal Filler THE RIGHT TREATMENT FOR YOU?
Dermal fillers can help with the following issues:
Sunken cheeks/loss of midface volume
Deep smile lines that run from the side of the nose to corners of the mouth (also known as the nasolabial folds)
Vertical lines around the mouth (also known as smoker's lines)
Marionette lines at the corners of the mouth
Thinning lips
Rough or uneven lip texture
Acne scars
Restore fullness to cheeks
Diminish scars
Erase fine lines and improve deep creases
Plump lips
Lift a down-turned mouth
Rejuvenate hands.
Most frequent questions and answers
Book an appointment to discuss your treatment and get you ready for enhancing your natural beauty.
DISCOVER OUR OTHER SERVICES AND TREATMENTS
If you're not certain which treatment will best suit your needs, please make an appointment to let our team make a personalized treatment plan for you.